Research, 2022.
Courtesy the artist.

Poems
(ongoing)
project by Aurelio Di Virgilio
research with Allison Grimaldi, Marta Federici, Paola Granato, Lucrezia Palandri, Elena Giannotti

with the support of
Più Erbacce / CIMD - Milano,
Atelier delle Arti - Livorno,
Kinkaleri - Prato,
Fondazione Armunia - Castiglioncello,
Ricercax - Lavanderia a Vapore.

selected for FONDO2023, Santarcangelo Festival, curated by Tomasz Kireńczuk. (Shortlist)


thanks to

Francesca Grilli, Dan Kinzelman, Stefano Tomassini



POEMS è una ricerca sulla potere che la dedica ha di cocretizzare una danza essenziale, esistenziale, il più possibile vicina al modo in cui ci muoviamo nel mondo. In POEMS i corpi si muovono in territori astratti, dissestati, macabri, notturni, animaleschi, canginati, selvaggi. I corpi splendono e si caricano di una forza commovente che consente loro di cercarsi, trovarsi nella nebbia di una notte non del tutto rassicurante. La scrittura coreografica procede insieme alla scrittura poetica e offre parole nuove per avvicinarsi all'altr* in forme di intimità goffe, lontane, delicate, ristoratrici, erotiche. I performer procedono in una solitudine sottile alla ricerca di nuovi modi di vivere.
POEMS is an exploration of the power that dedication has to concretize an essential, existential dance, as close as possible to the way we move in the world. In POEMS bodies move through unsettled, macabre, nocturnal, wild and cavernous territories. The bodies shine and are charged with a moving force that allows them to seek each other, to find themselves in the mist of a night not entirely reassuring. Choreographic writing progresses in tandem with poetic writing, offering new words to approach the other in forms of awkward, distant, delicate, nourishing, and erotic intimacy. The performers move in a poetic solitude, searching for new ways of living.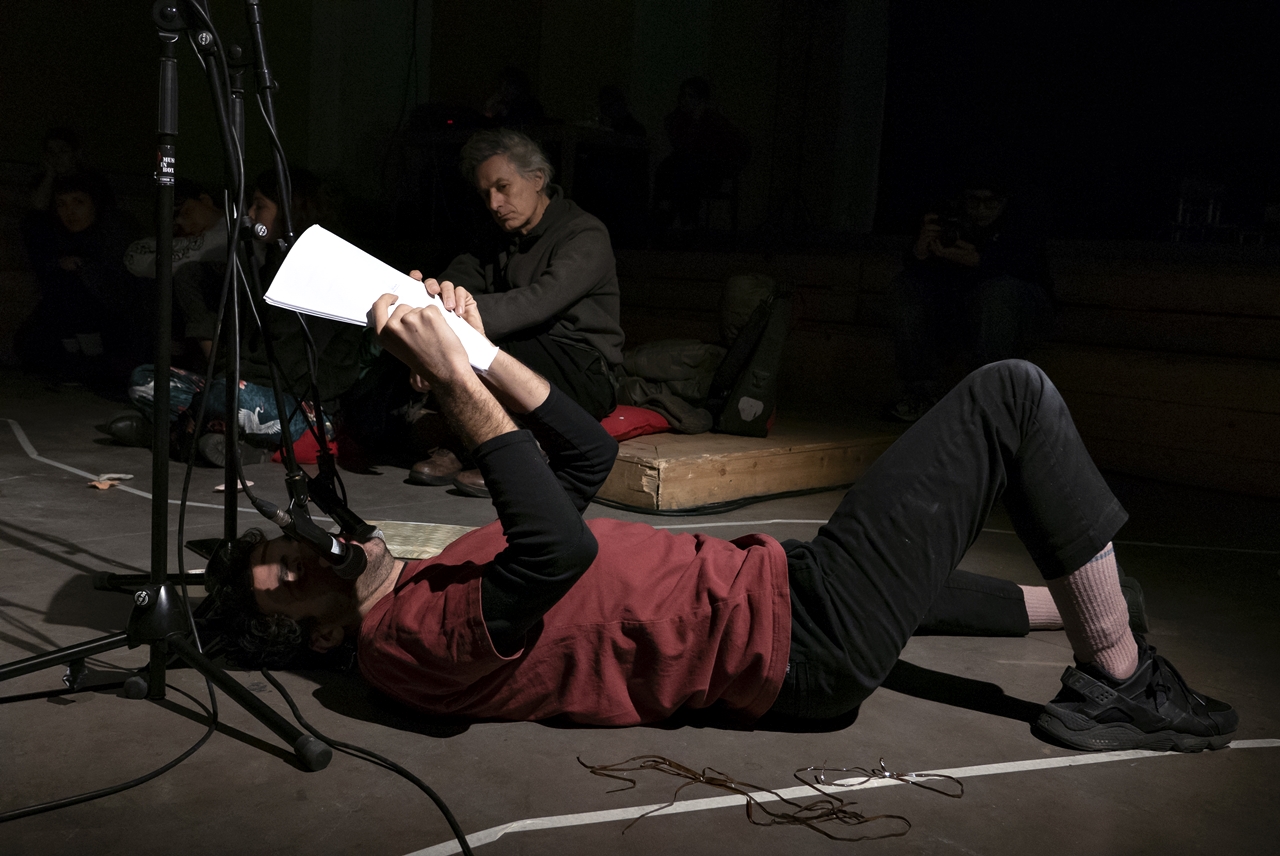 For more info about Poems:
aureliodivirgilio@gmail.com
© Aurelio Di Virgilio - 2023